The objective of this project is to produce a Strategic Plan for National Port Development, based on an assessment of the current port system, and according to the current and future conditions of the ports of the Central American and Southern Region of Mexico (within the context of Plan Puebla – Panama). The plan should take into account the external variables that affect the system and determine the strategies to be implemented in order to ensure the competitiveness and sustainability of the respective national ports (Port of Acajutla and Port of La Union).
The following diagram depicts the methodology used to develop the Strategic Plan.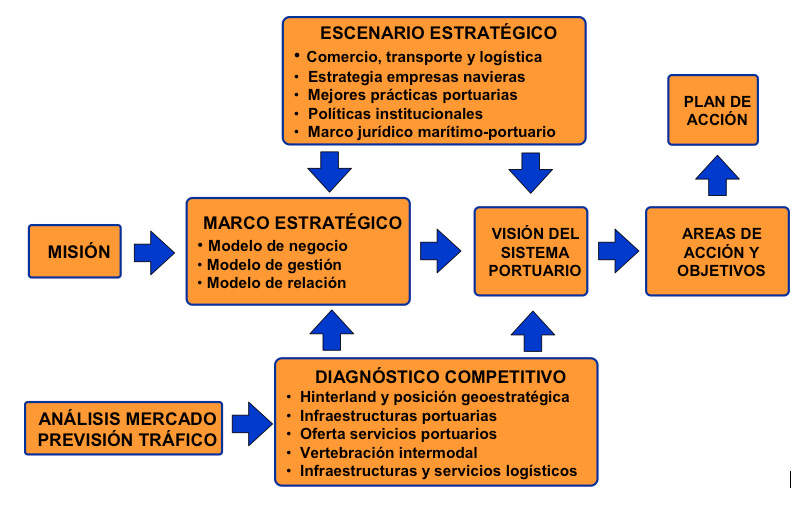 Main milestones in the port development of El Salvador until 2008
Until January 2002, CEPA (Port Authority) model "serviceport".
Early 2002: labour reform, stemming from the stevedore workforce.
September 2002: Port-Maritime General Law is passed
October 2002: Decree 1014 Terms of Tender for the Master Concession of the Port of Acajutla.
2003-2004: Development of the tender process for the Port of Acajutla, which remained unfilled (only one bid was submitted, and it did not meet the investment requirements).
2006/2007 (Technical Assistance from Fundación Valenciaport):

Strategic Plan for the Development of the Port System
Financial analysis of the private participation model
Tender documents (Acajutla and La Union)

2007/8: CEPA insists on a joint Master Concession model for the two ports, which is ultimately not approved.